In the Woods
By Tana French,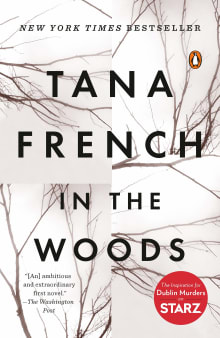 Book description
The bestselling debut, with over a million copies sold, that launched Tana French, author of the forthcoming novel The Searcher and "the most important crime novelist to emerge in the past 10 years" (The Washington Post).

"Required reading for anyone who appreciates tough, unflinching intelligence and ingenious plotting." -The New…
Shepherd is reader supported. We may earn an affiliate commission when you buy through links on our website. (learn more)
Why read it?
3 authors picked In the Woods as one of their favorite books. Why do they recommend it?
Bradley W. Wright
I love Tana French's books. She's a master of mystery and suspense but her books are normally fairly straightforward, gather-the-clues-and-figure-out-the-secret procedurals. In the Woods has a different feel. It delves more into psychological territory and relies partially on an unsolved mystery from the past–of which one of the detectives Rob was the sole, amnesiac survivor–that affects how the mystery in the present unfolds. As the tension builds, the reader is never sure whether the past events tie into the present mystery, Rob is cracking up under the pressure of the investigation and the bits of memory that return to him,…
Emilya Naymark
I inhaled this book. Yes, it's a police procedural, and yes, there's a murder. Maybe there are several, though the beauty of the novel is that this is not crystal clear. The absolute best part of this novel, and what I still remember years after reading it, is how real the characters are. Their emotions, their connections, and relationships are so vividly portrayed, that I wanted to alternately hug and scream at them. The narrator, a detective named Rob Ryan, is a walking, talking wound who somehow managed to become an adult after a devastating childhood event, and then become…
Gabriel Bergmoser
Many thrillers go down like fast food – enjoyable in the moment, but instantly forgettable. Tana French's novels are more like rich feasts, none more so than her debut, a novel that starts out with a compelling mystery and slowly descends into the psychological hell of a particularly clever horror movie. Uncompromising in its bold choices but always tender in how it treats its wounded, fractured but all-too-human characters. There are many reasons Tana French has gained such a fervent cult following, and all of them can be found in this book.