I Am David
By Anne Holm, L.W. Kingsland (translator),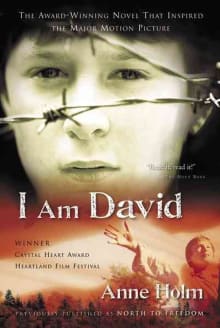 Book description
This is the story of a young boy's journey through Europe after escaping from the camp where he has lived all his life. Faced with a host of new experiences, David gradually begins to understand the world around him.
Why read it?
3 authors picked I Am David as one of their favorite books. Why do they recommend it?
Jonny Steinberg
My mother read this book to me over the course of several weekday afternoons. I was nine, maybe ten. The book's protagonist, David, is a boy who escapes from a concentration camp somewhere in Eastern Europe and walks to Denmark in search of his mother. Lying next to my own mother, on her bed, listening to her voice, cocooned by her love, I identified so very powerfully with this unrooted, solitary, questing boy. It stirred me more than anything else I read as a child. There is something in a refugee's tale that is so primal, so hard to shake…
Glen Huser
When I decided to build a narrative around a teen trying to reunite with the only family he has left, I Am David, a novel I loved when I studied and then taught Children's Literature, was often in my thoughts. David, the young boy in the story has been interned in a dreadful POW camp in Bulgaria during WW II. Once he escapes, he treks across Europe in search of his mother who he thinks may be alive somewhere in Denmark. It is a journey that helps him regain some trust in mankind even in the presence of evil…
Kathy Clark
I Am David is a unique story about a boy born in a concentration camp whose only experience of life is one of hardship and cruelty. Aside from his mother, he has known no kindness from people. When he is suddenly thrust into the free world all alone, he is scared of everyone and doesn't know how to survive. Together with David, the reader is taken on an extraordinary journey of discovery of the goodness of life and love.

Our community of 9,000+ authors has personally recommended 100 books like I Am David.
5 book lists we think you will like!
Interested in refugees, the Holocaust, and Denmark?
9,000+ authors have recommended their favorite books and what they love about them. Browse their picks for the best books about refugees, the Holocaust, and Denmark.
Refugees
Explore 114 books about refugees
Denmark
Explore 33 books about Denmark