Good Night, Mr. Tom
By Michelle Magorian,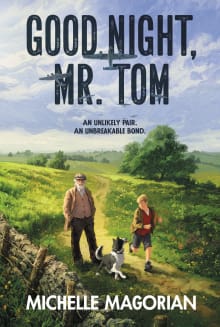 Book description
Puffin Classics: the definitive collection of timeless stories, for every child.

Tom tucked a blanket round him, drew up a chair by the fire and watched Willie fall asleep. The tales he had heard about evacuees didn't seem to fit Willie. 'Ungrateful' and 'wild' were the adjectives he had heard…
Why read it?
2 authors picked Good Night, Mr. Tom as one of their favorite books. Why do they recommend it?
Sharon K. Mayhew
This is an exceptionally good middle grade book! It tells what really happened to British children who were evacuated from the cities to the countryside during WWII. It caused me to question my English grandparents about their experiences during WWII. Imagine how people would react today if the government ordered them to put their children on a train to go live with strangers in some other part of the country.
Annika Thor
Will, the neglected and maltreated son of a fanatically religious, mentally disturbed mother, has never experienced love or kindness. At the outbreak of World War II, he and other children are evacuated from London to the countryside. In the home of his foster father, Mr. Oakley, whom he calls Mister Tom, Will slowly understands that life can be very different from what he has been used to – and Mr. Oakley, a widowed recluse, is brought out of his self-imposed isolation. Meanwhile, the war, at first a distant rumble in the background, comes closer and closer to the village and…