Foucault's Pendulum
By Umberto Eco,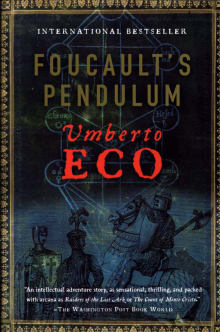 Book description
Three book editors, jaded by reading far too many crackpot manuscripts on the mystic and the occult, are inspired by an extraordinary conspiracy story told to them by a strange colonel to have some fun. They start feeding random bits of information into a powerful computer capable of inventing connections…
Why read it?
3 authors picked Foucault's Pendulum as one of their favorite books. Why do they recommend it?
Martin Treanor
I have read Foucault's Pendulum several times and never tire of reading it again. The book takes me – through the main character, Casaubon – on a quest, delving into a place where the maybe possible, even probable, becomes reality and into that mysterious world where conspiracy theory laps around the edges of the real world.
It is a thought experiment, of sorts, and the perfect example of being careful what you wish for… or expect… or deem to be true. It's also a fantastic read – as you might expect from Umberto Eco.

Adrian Stumpp
All of Eco's novels defy easy description, this one most of all. It is a post-modern dystopia masquerading as supernatural suspense. A conspiracy thriller that feels more like an epic quest fantasy. Cosmic horror in which the greatest monster of all is the human imagination. It starts with an occult conspiracy designed by artificial intelligence. Casaubon knows it's fiction, but that doesn't stop the conspirators from hunting him. The Knights Templar, Comte de Sainte-Germaine, ritual spirit possession, the alchemical homunculus, witches, spiritualist mediums, and the King of the World, all make appearances. Eco is a wizard disguised as a troubadour…
Alex Pavesi
Long before The Da Vinci Code, Umberto Eco wrote this epic novel featuring the Knights Templar. It's the story of the employees of a small publishing house, who for their own amusement dream up a wild conspiracy theory connecting multiple historical events. It's all fun and games until they realise there may be some truth to their theory. Soon their lives are in danger.