Evolution for Everyone
By David Sloan Wilson,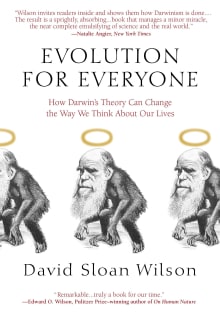 Book description
With stories that entertain as much as they inform, renowned evolutionist David Sloan Wilson outlines the basic principles of evolution and shows how, when properly understood, they can illuminate the length and breadth of creation, from the origin of life to the nature of religion. 

What is the biological reason…
Why read it?
1 author picked Evolution for Everyone as one of their favorite books. Why do they recommend it?
Steven C. Hayes
We can't understand ourselves, unless we understand our evolutionary history. In his book Evolution for Everyone, evolutionary biologist David Sloan Wilson outlines the principles behind our biology, history, culture, and morality. In order to understand how these processes came to be, we must view evolution through a multi-level and multi-dimensional lense, which is not only central to our modern understanding of evolution, but provides an extended evolutionary synthesis that allows evidence-based psychotherapists to view themselves as applied evolution scientists. David Sloan Wilson describes these processes and more in an accessible and engaging manner – all inside this volume.