Blood, Bones & Butter
By Gabrielle Hamilton,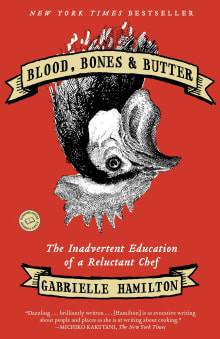 Book description
'Magnificent' Anthony Bourdain

A sharply crafted and unflinchingly honest memoir. This is a rollicking, passionate story of food, purpose and family.

Blood, Bones & Butter follows the chef Gabrielle Hamilton's extraordinary journey through the places she has inhabited over the years: the rural kitchen of her childhood, where her adored…
Why read it?
3 authors picked Blood, Bones & Butter as one of their favorite books. Why do they recommend it?
Brianne Moore
Gabrielle Hamilton isn't just a 'reluctant chef' (in her own words), she's also an absolutely exquisite writer (her MFA really paid off!). Her memoir traces her life and love of food from her New Jersey childhood, through her many professional ups and downs and international travels (I especially love the parts where she's staying at her Italian mother-in-law's home, describing the incredible produce she was able to get. Oh, the tomatoes!) Did I extra love this because she grew up in the same small town I was born in? Maybe, but it's a wonderful book no matter where you're from.
Alex Witchel
Hamilton's memoir recalls her turbulent family history, her sexual ambiguity, her love of Italy, and more unexpectedly, her Italian mother-in-law, who nurtured her passion for cooking. It doesn't hurt that outside the kitchen, Hamilton earned her M.F.A in fiction writing from the University of Michigan and can write about the devastating fallout from her parents' divorce with the same acuity and poetry she deploys about cooking an egg. In the waiting room, where her galloping curiosity and generosity of spirit suffuse you, be reminded that there is a whole world out there, and that past this unhappy day, there…
Hannah Howard
In her memoir Blood, Bones and Butter, Gabrielle Hamilton's journey from wayward teenager to New York City chef unfolds in tandem with ecstatic meals and poignant flavors. The book opens with her dad's lamb roast for the whole town, six baby animals skewered with branches from their ash trees and left to spin on a spit in their expansive, wild yard in Lambertville, New Jersey. The roast is more than a mere party but a lesson in "how to create beauty where none exists, how to be generous beyond our means, how to change a small corner of the…