A Master of Djinn
By P. Djèlí Clark,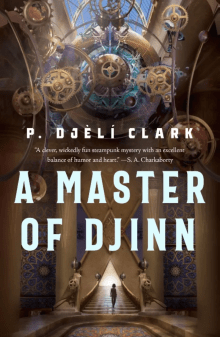 Book description
Included in NPR's Favorite Sci-Fi And Fantasy Books Of The Past Decade (2011-2021)
A Nebula Award Winner
A Ignyte Award Winner
A Compton Crook Award for Best New Novel Winner
A Locus First Novel Award Winner
A RUSA Reading List: Fantasy Winner
A Hugo Award Finalist
A World Fantasy Award…
Shepherd is reader supported. We may earn an affiliate commission when you buy through links on our website. (learn more)
Why read it?
3 authors picked A Master of Djinn as one of their favorite books. Why do they recommend it?
Caroline Stevermer
Agent of the Ministry of Alchemy, Enchantments, and Supernatural Entities, Fatma el-Sha'arawi is the spectacularly well-dressed protagonist tasked with saving the world (again) in an alternate 1912 Cairo. This award-winning novel awed me with its detail and invention. What I loved most was the way the world building relegated the British Empire to relative unimportance. Come to think of it, I loved the Ministry library almost as much.
Nadia Afifi
This alternate universe set in Cairo had everything I was looking for at the time—a fast-paced reimagining of Middle Eastern history and folklore with a compelling female protagonist. But above all, it's fun. The story starts strong and maintains an exciting, gripping pace throughout as Agent Fatma investigates the murder of a secret brotherhood in a world populated by magical beings. It's such a fascinating and richly developed universe that I immediately wanted another book set in this world after turning the final page. And luckily, there are more!
Jeff Young
Fatma el-Sha'arawi of the Ministry of Alchemy, Enchantments, and Supernatural Entities is on the case when a mysterious dark figure causes a mass murder. Could it truly be the same person who once brought the Djinn into the world or is there something more afoot? Full of wonderful characters in a fully developed world of Arabic Mythology and steam-powered glory set in an alternate Cairo.