The Women I Think about at Night: Traveling the Paths of My Heroes
By Mia Kankimäki, Douglas Robinson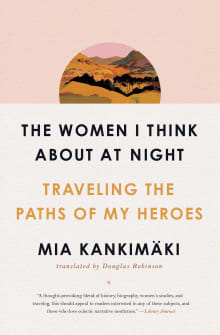 Why this book?
Mia Kankimäki's thoughtful travel memoir explores female adventurers of the past, from Karen Blixen of Out of Africa to Yayoi Kusama, an artist who voluntarily lived in a psychiatric hospital for decades. Kankimäki confronts her own personal demons while considering the challenges these mighty women faced as they journeyed into places unknown.
The Women I Think About at Night is part travel essay, part history lesson, and an all-around enjoyable narrative about female adventures who defied cultural norms to build the lives they wanted.
---
When you buy a book we may earn a small commission.