Growing Kids God's Way: Reaching the Heart of Your Child With a God-Centered Purpose
By Gary Ezzo, Anne Marie Ezzo,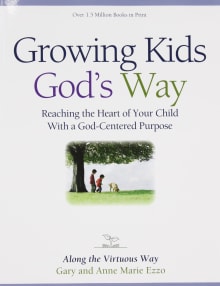 Why this book?
I love the Growing Kids God's Way series! The first book saved my sanity when my twins were infants. The sleep training and daytime routines helped me go from 2 ½ hours of non-consecutive sleep each night, to both twins sleeping 12 hours per night with four 2-hour naps during the day.
I read the entire series which goes from newborns to teenagers. These are very practical books with topics such as potty training, highchair manners, and structured routines. They also have all their parenting videos on the site which are fantastic.
---