The Illuminated Manuscript
By Janet Backhouse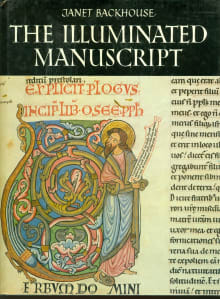 Why this book?
Any time you pick up a book with Illuminated Manuscript anywhere in the title, you know you're in for a visual feast. If you're just starting out with this unique medieval art form, this book is an excellent introduction. It's not too long, so it won't overwhelm you. This book provided the foundation for my first steps into researching medieval illumination for my historical romantic novel. What is illumination? Why were books illuminated and what types of books were considered worthy of illumination? Who were some of the most famous medieval illuminators? (Perhaps my heroine's father had studied with one.) What kind of patrons might my heroine have encountered in her father's workshop?
This book ignited my imagination while helping me discover the best answers for my story. (NOTE: So much of this art has been digitized that most of the B&W photos are now easy to find in color on the internet.)

---
When you buy a book we may earn a small commission.