What Does This Button Do?: An Autobiography
By Bruce Dickinson,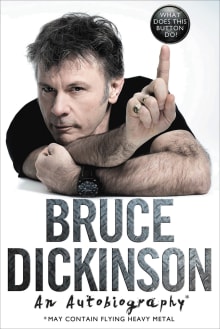 Why this book?
I am a huge Iron Maiden fan, like a devoted acolyte fan. Over the years, I've seen them multiple times, bought a closet full of concert shirts, and collected their beers/Funko Pops/album deluxe versions. Bruce Dickinson is the band's second vocalist, and here he gives us the tales of his early days in Samson before joining Steve Harris and the Maiden crew. We get stories of his childhood and family in typical autobiography fashion, but it takes off once he gets into the meat of his time with Iron Maiden.
The book is captivating because he reflects on leaving Maiden to follow a solo career. The struggles he dealt with personally and professionally paint a picture of a man who had it all but wanted to try something new. The book's final portion deals with his return to Iron Maiden and how he went through cancer. Cancer could've ended his career as a vocalist, but he battled it and came back stronger than ever. Overall, it is an insightful look at the life of the man singing for one of the world's biggest metal bands.
---