Civil War Barons: The Tycoons, Entrepreneurs, Inventors, and Visionaries Who Forged Victory and Shaped a Nation
By Jeffry D. Wert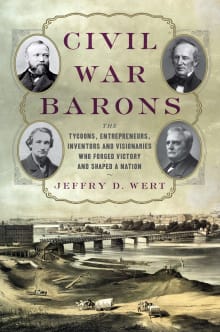 Why this book?
We often think about the Civil War in terms of battles, casualties, and fatalities, which isn't surprising as war is always considered a bloody business sprinkled with death and destruction. However, many historians overlook that it wasn't just bullets that won the war. Technological innovations changed the battlefield. For example, Samuel M. Pook teamed up with John Eads to design a new style of armored battleship—dubbed Pook's Turtles. Just weeks after the gunboats were commissioned, they enabled Ulysses S. Grant and Admiral Andrew Hull Foote to take Forts Henry and Donelson. Later, the fleet assisted John Pope in taking Island 10 and again in the Vicksburg campaign.
Christopher Spencer developed a repeating rifle that fired seven balls in quick succession. Abraham Lincoln's first test determined the gun was a dud. However, the second test went off without a hitch, and the war department ordered 2,000 Spencer Rifles. Many other innovations came together during the Civil War to change the face of battle forever.
---
When you buy a book we may earn a small commission.