The National Enquirer: Thirty Years of Unforgettable Images
By Editors of National Enquirer,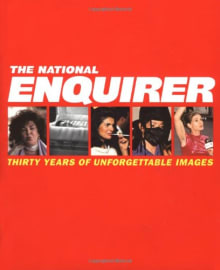 Why this book?
As a child, I loved my grandmother's visits because she would bring all the tabloids I wasn't allowed to read — and none was better than The National Enquirer. No other outlet reveled so gleefully in scandal: Hollywood stars, politicians, huckster reverends — all were equal targets, and the Enquirer exposed them the way law enforcement nails suspects: Photographic evidence. Can't lie your way out of a photo. So here's a ruddy, paunchy, engaged-to-be-married Sen. Ted Kennedy with his 27-year-old paramour, a Miss Alabama runner-up; married presidential candidate Gary Hart, knocked out of the race after daring the media to catch him cheating — which the Enquirer did, running an exclusive picture of mistress Donna Rice sitting on his lap, Hart incredibly wearing a T-shirt reading Monkey Business; and an unprecedented image that changed tabloid journalism and resulted in the Enquirer's best-selling issue: Elvis Presley in his coffin at Graceland.

---