You Are the Universe
By Deepak Chopra, Menas C. Kafatos,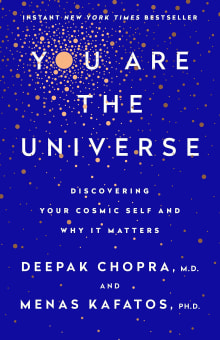 Book description
NEW YORK TIMES BESTSELLER • Deepak Chopra joins forces with leading physicist Menas Kafatos to explore some of the most important and baffling questions about our place in the world. 

"A riveting and absolutely fascinating adventure that will blow your mind wide open!" —Dr. Rudolph E. Tanzi
 
What happens when…
Shepherd is reader supported. We may earn an affiliate commission when you buy through links on our website. (learn more)
Why read it?
2 authors picked You Are the Universe as one of their favorite books. Why do they recommend it?
Larry Gottlieb
Deepak Chopra has been exploring the relationship between spirituality and science for many decades, and Menas Kafatos's peer-reviewed research on cosmology and astrophysics, among other topics, is well documented. Their work in this book makes it clear that instead of living in a material, unknowing and uncaring universe, we instead live in what they call a human universe, one that is living, conscious, and evolving. This book makes the case convincingly that we create our own reality in a conscious universe that responds to the beliefs and thoughts that reside in our minds. I have watched Mr. Chopra speak numerous…
Allan Combs
This book presents a deeply spiritual inquiry into human consciousness, set in the context of a wonderfully clear explanation of up-to-date ideas about cosmology, quantum physics, and the nature of the universe. The authors explore the idea that we as human beings are integral to the fabric of the universe, and that consciousness itself is an undergirding feature of that universe. They point out again and again that everything we know about the universe is intimately connected to conscious experience.
At first glance, this may appear simply a latter-day version of classic idealism, but for these contemporary authors, consciousness is…