Will in the World
By Stephen Greenblatt,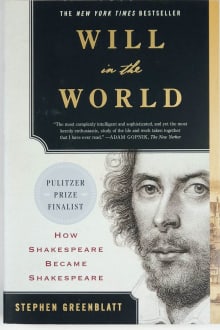 Book description
A young man from a small provincial town moves to London in the late 1580s and, in a remarkably short time, becomes the greatest playwright not of his age alone but of all time. How is an achievement of this magnitude to be explained? Stephen Greenblatt brings us down to…
Why read it?
2 authors picked Will in the World as one of their favorite books. Why do they recommend it?
Arlene Naylor Okerlund
A literary biography, Will in the World connects the plots of Shakespeare's plays and the sentiments of his poems to the writer's life and career. No one living knows more about Shakespeare than Stephen Greenblatt. His research is solid and impressive. In this book, Greenblatt verges a bit into speculative possibilities. Where, exactly, was Shakespeare living—what was he doing?—during "The Lost Years"? Was the "Shakeshafte" mentioned in a Lancashire document our man, perhaps tutoring as a schoolmaster in a Catholic home? 
Greenblatt carefully points out that he is discussing possibilities, not certainties. But a possibility mentioned too many times by…
Stephen Kinzer
This book is shaped by a frank admission that much about Shakespeare's life remains unknown, and sets out to fill in the blanks.  The author is as qualified as anyone to write a book about Shakespeare full of phrases like "may have," "must-have," and "probably did." It brings the world of Elizabethan theater to vivid life, and is enriched by provocative speculation about Hamlet.