The Wanderer's Havamal
By Unknown, Jackson Crawford (translator),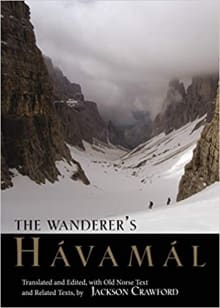 Book description
The Wanderer's Havamal features Jackson Crawford's complete, carefully revised English translation of the Old Norse poem Havamal , newly annotated for this volume, together with facing original Old Norse text sourced directly from the Codex Regius manuscript. Rounding out the volume are Crawford's classic Cowboy Havamal and translations of other…
Why read it?
1 author picked The Wanderer's Havamal as one of their favorite books. Why do they recommend it?
Kendall Grey
This Old Norse poem was part of the collection of works included in the Poetic Edda, written around 1300 CE and collected by Snorri Sturlusson. It centers around the god Odin and includes advice for life and love, the story of Odin's self-sacrifice on the World Tree of Yggdrasil, and eighteen spells Odin claims to know. The book provides revealing details about life in Viking times, but my favorite part is the section on spells, which include healing, manipulating metal so weapons do less damage, escape artistry, redirecting curses, calming winds, and even resurrection. Hávamál isn't as popular as some…