The Viking Way
By Neil Price,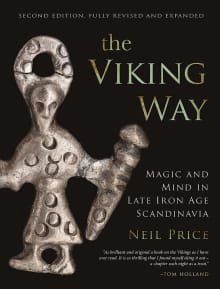 Book description
Magic, sorcery and witchcraft are among the most common themes of the great medieval Icelandic sagas and poems, the problematic yet vital sources that provide our primary textual evidence for the Viking Age that they claim to describe. Yet despite the consistency of this picture, surprisingly little archaeological or historical…
Shepherd is reader supported. We may earn an affiliate commission when you buy through links on our website. (learn more)
Why read it?
3 authors picked The Viking Way as one of their favorite books. Why do they recommend it?
Angus Donald
I studied magic, sorcery, and spirit possession as a student anthropologist for a few months in Indonesia in the late 1980s. Thirty-odd years later, when I came to write a series of novels about Viking warriors being possessed by the spirits of bears and wolves, which they believed lent them a berserk frenzy in battle, I drew on my own meagre experience and on the far more impressive work of Neil Price, a professor of Archaeology at Uppsala University and expert on the pre-Christian religions. In The Viking Way, Price explains Viking belief systems and tackles occult subjects such…
Thomas Williams
Although the lines that can be drawn between myth, religion, belief and magic are often fine, how we actually proceed from myths that were written down (mostly) in the thirteenth century to the world-view of the people of the Viking Age is not at all straightforward. In this enormously influential book, the archaeologist Neil Price reconstructs a compelling image of how the people of Scandinavia in the final centuries of the first millennium encountered the invisible world of gods, monsters, spirits and the currents of magic. Along the way the reader encounters shrieking Valkyries, deadly battle magic, sex rituals, shape-shifters…
Tom Shippey
Many thousands of Viking graves have now been excavated, and all one can say is, the Vikings were weirder than we ever imagined. They lived in close contact with "circumpolar" people, and their graves show evidence of shamanism, sexual ambiguity, witchcraft, inexplicable rituals. Valkyries, shield-maidens, berserks, weapon-dancers, all come into consideration. Vikings will never seem the same again.