The Tutankhamun Prophecies
By Maurice Cotterell,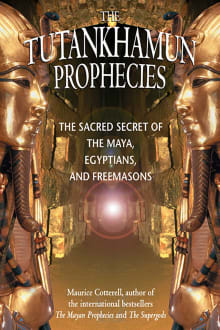 Book description
This text reveals the remarkable similarities between Tutankhamun and Lord Pacal of the Maya. Re-examining the life, times and tomb of Tutankhamun, Maurice Cotterell explains many of the mysteries that have puzzled scholars.
Why read it?
1 author picked The Tutankhamun Prophecies as one of their favorite books. Why do they recommend it?
Harry Whitewolf
What has ancient Egypt got to do with Freemasonry? Quite a lot as it turns out. The author of The Tutankhamun Prophecies, scientist and mathematician Maurice Cotterell, weaves together the esoteric knowledge of modern secret societies with Egyptian religion and the ancient Mayan people. I'm chuffed to have a signed hardback copy of this book, which I seem to recall I found in a charity shop. Actually, now I come to think of it, the bloke that sold it to me gave me a rather funny handshake… Hm…