The Summer Tree
By Guy Gavriel Kay,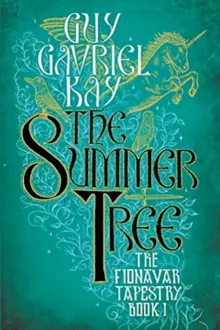 Book description
The first volume in Guy Gavriel Kay's stunning fantasy masterwork, now reissued with the beautiful original cover art by Martin Springett.
Five men and women find themselves flung into the magical land of Fionavar, First of all Worlds. They have been called there by the mage Loren Silvercloak, and quickly…
Why read it?
2 authors picked The Summer Tree as one of their favorite books. Why do they recommend it?
Ann Claycomb
Guy Gavriel Kay is widely known and admired for his sweeping, epic fantasy novels, all set in fantastical version of real historical countries—but before he turned to that genre, he wrote the Fionavar Trilogy. 
Think Lord of the Rings with critical differences: the characters all have a wry sense of humor and an appreciation of irony and many of those characters are women, strong, intelligent, fierce, complex women. Kay also goes for broke as a storyteller here; you can almost hear him wondering, "Can I pull this off?" And he does it every single time.
Ellen Mae Franklin
Imagine yourself going about your day to find that you, as an individual, have a crucial part to play in an alternative world. Five characters in this story will become a part of Fionavar's history, there is little they can do to avoid their fate. The writer will take you down a path of sorrow and then he turns to lead you to a different place, one that will captivate you. I have worn down the pages of my personal books in this series, reading them often, for I connect to each character and their personal journeys. The series is…