The Saltwater Heir
By Cassidy Clarke,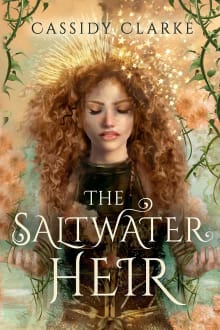 Book description
Princess Soren of Nyx is no stranger to loss after a decade-long war with the neighboring kingdom of Atlas. But with her best friend slowly succumbing to a cruel Atlas poison, she hatches a reckless plan: kidnap the enemy prince from the battlefield and use his life to barter for…
Why read it?
3 authors picked The Saltwater Heir as one of their favorite books. Why do they recommend it?
Ashley Weiss
With ever-increasing stakes, The Saltwater Heir is by far the best self-published fantasy book I've ever read.
The story follows a lost princess, war-torn kingdoms, and a love interest fated to die. It has the perfect balance of banter and sass, slow-burn romance, hilariously relatable sibling dynamics, and gut-wrenching plot twists to keep you on the edge of your seat. I laughed a lot; I sobbed even more.
I would recommend this book to readers who enjoy having their hearts captured in an emotional vise of stress, hope, and heartbreak.
Renee Dugan
Finding The Saltwater Heir and falling in love with its female lead, Princess Soren—who balances softness and strength in equal measure—was something that got me out of a reading slump of many years and changed the way I view female-led fantasy as a whole. Soren is steel and roses; she is a fun-loving, fierce gremlin of a girl who spoke to the wildness that lives in my heart. Her sass and wit were only outmatched by her willingness to lay down her life for those she loved most. That fierce attachment to her family and friends was something I had…
Lina C. Amarego
This book has all my favorite tropes; sibling banter, friends to lovers, and elemental magic. But best of all, it's set in the beach-side kingdom of Atlas, and it instantly transports readers. It made me cry several times, and I can't wait for the sequel! Best of all, Clarke is an independent author with a unique voice and gorgeous prose that has a visceral effect.