The Robber Bride
By Margaret Atwood,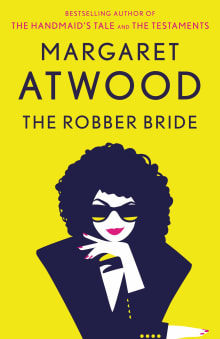 Book description
Zenia is beautiful, smart and greedy, by turns manipulative and vulnerable, needy and ruthless; a man's dream and a woman"s nightmare. She is also dead. Just to make sure Tony, Roz andd Charis are there for the funeral. But five years on, as the three women share an indulgent, sisterly…
Why read it?
3 authors picked The Robber Bride as one of their favorite books. Why do they recommend it?
Zosia Wand
Another book with a delicious cover. I have long since lent my copy out and it never made its way back to me, but I remember the distinctive image of a woman in a black mask. Fairy tales offer dark female characters with a complexity that lends itself to further exploration. Zenia is the Robber Bride of the title and you don't have to know the fairy tale to guess the story. Three friends share their accounts of how Zenia betrayed them in different ways. The reader forms a vivid picture of Zenia, but also the individual narrators. And there…
Cheryl Burman
I love anything by Atwood, but this book had me hooked from the first sentence. Three women become friends, united against a common enemy–the unpredictable and glamorous Zenia, who attempted to steal away their boyfriends/husbands many years before. They believe her dead, but when she re-appears, old threats surface. The unravelling of the different tales past and present, and the way the women unite and fight back to save their relationships is a complex and page-turning story.
A.M. Potter
Who's the Queen of Canadian Mystery? Many say Louise Penny, author of the Inspector Gamache series. I say Margaret Atwood. "Bull," you say, "Atwood isn't a mystery writer." True, in as much as she's not labeled a mystery writer. The Robber Bride is usually regarded as literary fiction but that doesn't mean it's not a mystery, and a damn fine one. Although the novel doesn't feature a parade of murderees, there are enough plot twists to please the most demanding mystery fan. The reader knows the villain (Zenia) from the start. But they don't know what she did, or how…