The Orchid Thief
By Susan Orlean,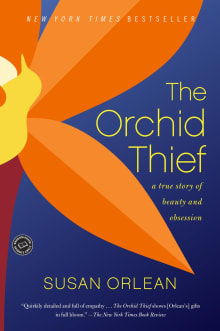 Book description
The story of orchid thief and obsessive, John Laroche, and the bizarre world of the orchid fanciers of Florida. The world of the orchid hunters, breeders and showmen, their rivalries, vendettas and crimes, smuggling, thefts and worse provide the backdrop to an exploration of one of the byways of human…
Why read it?
3 authors picked The Orchid Thief as one of their favorite books. Why do they recommend it?
Sonia Day
A good book provides me with information, but it must also be entertaining and free of annoying jargon. This one became a bestseller after it appeared back in 1998, with good reason. In fact, I've read it three times (a rarity for me) and I always get a chuckle or two. Susan Orlean crafts a fascinating tale about the wonderful subculture of orchid fanciers in Florida. The writing is vivid, the characters she meets are off the wall, and I learned a lot about these weird, sometimes creepy flowers.
Jane S. Smith
Like all of Orlean's work, The Orchid Thief is beautifully written, a surprising and often funny portrait of a man obsessed with the dream of finding, cloning, and selling a rare and protected orchid. Orlean takes us into the secret world of bio-piracy and reminds us that flowers are not just emblems of luxury and beauty. They are also big business.
Zachary Petit
The genesis of Orlean's modern classic is a literary lesson in and of itself. Stashed in the seat pocket of an airplane, she found a copy of The Miami Herald, and a news brief about a man who had been arrested for stealing orchids from a swamp. The New Yorker agreed to send Orlean down to snoop around—and an article, and subsequently book, was born. The piece is equal parts character and subculture study, and Orlean masterfully brings telling details to the page that illuminate both in the most brilliant of ways. 
The book would go on to inspire…