The Hunchback of Notre Dame
By Victor Hugo, Lucy Corvino (illustrator),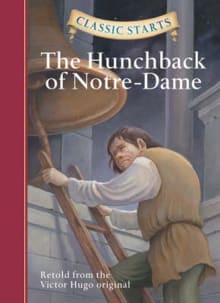 Book description
Victor Hugo's great story of Quasimodo, the deformed bell ringer of Notre Dame and his unrequited love for the dancer, Esmeralda. Classics Illustrated tells this wonderful tale in colourful comic strip form, offering an excellent introduction for younger readers. This edition also includes theme discussions and study questions, which can…
Shepherd is reader supported. We may earn an affiliate commission when you buy through links on our website. (learn more)
Why read it?
3 authors picked The Hunchback of Notre Dame as one of their favorite books. Why do they recommend it?
Tyler R. Tichelaar
You may know this book as The Hunchback of Notre Dame, but you probably don't really know it. Films, most notably the Disney cartoon, have grossly distorted this novel, often having Esmeralda ride off into the sunset with Phoebus. But the novel is really a very dark, Gothic story of love and lust, and one of the first existential novels. Frollo and Quasimodo both love Esmeralda, but she loves Phoebus, and he only loves himself. In the end, everyone dies, allowing their lust to destroy their common sense. Hugo wrote it to help popularize and save Notre-Dame Cathedral from…
Madina Papadopoulos
Paris. 1482. Notre Dame Cathedral. Quasimodo. Beautiful gypsy named Esmeralda. The characters are so renowned that a summary seems redundant—all I can add is that every rendition of this story in our communal mind is like seeing a postcard of Paris rather than visiting it in person. Please hop on a flight to this beautifully written page-turner, you won't regret it. While at times classics can be heftier reads for the modern reader, this tome stands up to time as entertaining, fast-paced, and heart-wrenching. 
Daniel Presley and Claire Polders
Paris is a classic city, so a classic on this list is a must. The Hunchback of Notre Dame in its original version is 500+ pages and written for adults. This abbreviated yet spellbinding version is great for younger readers. Walk in 15th century Paris, meet Quasimodo, the gypsy girl Esmeralda, and get lost in a haunting drama.