The Gay Science
By Friedrich Nietzsche, Walter Kaufmann (translator),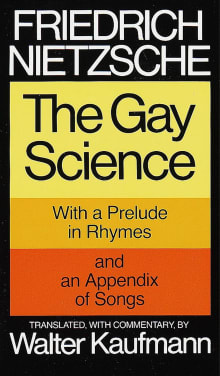 Book description
The book Nietzsche called "the most personal of all my books." It was here that he first proclaimed the death of God—to which a large part of the book is devoted—and his doctrine of the eternal recurrence.

Walter Kaufmann's commentary, with its many quotations from previously untranslated letters, brings to…
Why read it?
1 author picked The Gay Science as one of their favorite books. Why do they recommend it?
Lee Braver
Alchemists pretended to have magic that could control nature until their immature discipline evolved into chemistry, a science that actually can do amazing things to improve our state. Nietzsche asks this SAT analogy question: chemistry is to alchemy, as what is to philosophy and religion? What could evolve from those pretenders that could actually be beneficial, using the same kind of tools but sharpened, honed, perfected? His answer: the joyous, frolicking wisdom he fills this book with. This is where he pronounces the death of God and the birth of humanity, as well as the Eternal Return of the Same…