The Fourth Revolution
By John Micklethwait, Adrian Wooldridge,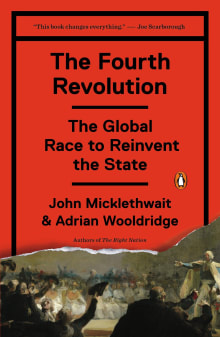 Book description
From the bestselling authors of The Right Nation, a visionary argument that our current crisis in government is nothing less than the fourth radical transition in the history of the nation-state

Dysfunctional government: It's become a cliche, and most of us are resigned to the fact that nothing is ever…
Why read it?
1 author picked The Fourth Revolution as one of their favorite books. Why do they recommend it?
Jaideep Prabhu
The authors of this book were stalwarts of The Economist for many years. They bring to this book all their considerable powers as writers and analysts of contemporary politics and economics. Again, this book was a major source of inspiration for my own book. After discussing prior revolutions in the scale and scope of the state over the last two centuries, The Fourth Revolution argues that: 1) reform of the state is essential, and 2) this reform is possible because it is already happening all over the world thanks to new technology. This book, therefore, served for me as the…