The Forager's Harvest
By Samuel Thayer,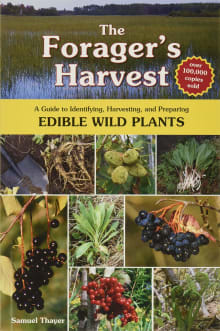 Book description
A guide to 32 of the best and most common edible wild plants in North America, with detailed information on how to identify them, where they are found, how and when they are harvested, which parts are used, how they are prepared, as well as their culinary use, ecology, conservation,…
Why read it?
2 authors picked The Forager's Harvest as one of their favorite books. Why do they recommend it?
Leda Meredith
Like all of Sam's books, this one is a gold mine of detailed, in-depth information about the plants he features in it. His information is beyond trustworthy: he is so familiar with his subject that it is as if he is inviting you to get to know some of his best friends (the plants). My copy is dog-eared and field-stained from all the use I have put it to.
Thomas J. Elpel
Samuel Thayer made a lifestyle of harvesting, cooking, and eating wild edible plants. He discovered that most edible plants books contain erroneous information, written by authors who referenced other books without trying wild foods themselves. Thayer has been a myth-buster, clarifying issues such as those regarding the edibility and preparation of common milkweed, which has become one of my favorite wild edibles thanks to his research. Thayer includes wild foods in his diet almost daily, and in one experiment, he ate nothing but wild foods for several months.
The Forager's Harvest is the kind of edible plants book that is…