The Evolution of Useful Things
By Henry Petroski,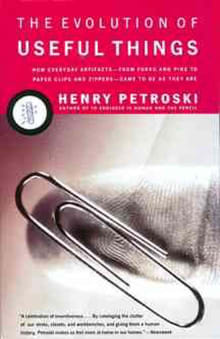 Book description
   How did the table fork acquire a fourth tine?  What advantage does the Phillips-head screw have over its single-grooved predecessor? Why does the paper clip look the way it does? What makes Scotch tape Scotch?

   In this delightful book Henry, Petroski takes a microscopic look at artifacts that most of…
Why read it?
1 author picked The Evolution of Useful Things as one of their favorite books. Why do they recommend it?
Mark S. Blumberg
If you are interested in understanding the roots of human invention, this is your book. Too often we attribute inventions—and the creative spark underlying them — to a mysterious force or a special gift. In this book, Henry Petroski, an engineer, shows us the process by which inventions come about. That process is an evolutionary one that often relies on trial and error. Petroski illustrates his ideas and develops his themes using the most mundane of objects, such forks, paper clips, and zippers. If even such seemingly simple objects evolved, what must that say about computers, rockets, and even humans?