The Big Umbrella
By Amy June Bates, Juniper Bates,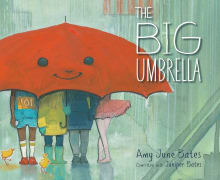 Book description
"A subtle, deceptively simple book about inclusion, hospitality, and welcoming the 'other.'" —Kirkus Reviews

"A boundlessly inclusive spirit...This open-ended picture book creates a natural springboard for discussion." —Booklist

"This sweet extended metaphor uses an umbrella to demonstrate how kindness and inclusion work...A lovely addition to any library collection, for classroom…
Why read it?
2 authors picked The Big Umbrella as one of their favorite books. Why do they recommend it?
Norene Paulson
Two things first drew me to this story. First, in our hall closet there is also a big umbrella—a big white, blue-striped umbrella which when opened is roomy enough for all our family members. Second, I love the metaphors in the book…the umbrella = shelter, rainy weather = troubles/hard times, and the variety of characters under the umbrella = family, friends, strangers, and the best part is no one is left out from beneath the umbrella as it simply gets bigger to accommodate everyone's needs. What a compassionate, empathetic message of inclusion.
Colleen Rowan Kosinski
This book deals with inclusivity in a heartfelt way. I love how this book uses simple language to get across a big message. The story shows how there is always room for everyone under the big umbrella. In other words, you can think of your heart as a big umbrella that can find room for everyone—no matter how different they might be from you. The story is highlighted with loose, watercolor illustrations that complement the feel of the book. It's hard to give character to an inanimate object, but the artist is very successful in this book, using a simple…