Sophie Scholl and the White Rose
By Annette Dumbach, Jud Newborn,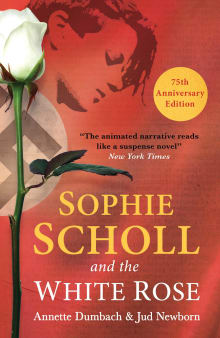 Book description
This is the gripping story of the five Munich university students who set up an underground resistance movement in World War II, featured in the award-winning Oscar-nominated film, Sophie Scholl - The Final Days. This 75th anniversary edition commemorates the 75 years since their arrest & execution in 1943. This…
Why read it?
1 author picked Sophie Scholl and the White Rose as one of their favorite books. Why do they recommend it?
Michela Cocolin
Sophie and Hans Scholl are often remembered as the siblings who "would not keep silent" against the Nazis until their arrest, flash trial, and execution by guillotine on February 22, 1943. What Sophie and Hans started was much more than a local students' movement; The White Rose involved students, academics, clergy, and civilians in Munich and around other parts of Germany. The book captures and reflects upon the many dimensions of the activities of those involved, it contains all the 6 original leaflets published by the White Rose as well as indexes of the trial and sentences of its members.