Social Sciences as Sorcery
By Stanislav Andreski,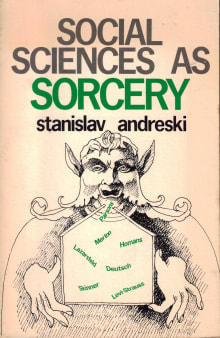 Book description
"Seldom have the social sciences been subject to quite so comprehensive, yet non-partisan, attack. There can be little doubt SOCIAL SCIENCES AS SORCERY is an uncomfortably important and embarassingly comprehensive book." -- Times Literary Supplement "Liberating!" -- Harpers "Andreski has written a new book that is certain to enrage his…
Why read it?
1 author picked Social Sciences as Sorcery as one of their favorite books. Why do they recommend it?
Aubrey Clayton
This book is now 50 years old, but its message is as relevant and important now as when it was written. In a series of witty essays that border on rants, Andreski attacks much of social science as fluff obscured by technical jargon and methodology. In particular, he laments the growth of quantitative methods as an attempt to add objectivity to social science and make it appear "harder." True objectivity is about more than mechanical number-crunching, he says; it's about a commitment to fairness and resisting the temptations of wishful thinking – a challenge anyone who works with data concerning…