Robinson Crusoe
By Daniel Defoe,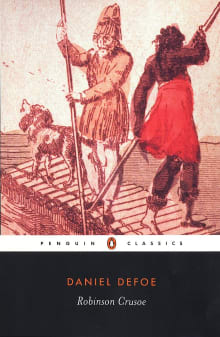 Book description
'Robinson Crusoe has a universal appeal, a story that goes right to the core of existence' Simon Armitage

Daniel Defoe's Robinson Crusoe, regarded by many to be first novel in English, is also the original tale of a castaway struggling to survive on a remote desert island.

The sole survivor…
Shepherd is reader supported. We may earn an affiliate commission when you buy through links on our website. (learn more)
Why read it?
3 authors picked Robinson Crusoe as one of their favorite books. Why do they recommend it?
Elizabeth Flann
This book was the granddaddy of the adventure genre. Writing in the 1700s, Defoe provided all the touch-points that have dominated the genre to the present day – desert island, castaway, man Friday, fear of man-eating beasts – almost all of which I have used in a book written in the 2020s (although my Alix did not find a man Friday). As possibly the first fictional story of human survival it created a template for all that followed. Each of the books I have mentioned, including my own, have to deal with endless problems from the mundane (what can I…
Gray Basnight
How do I love this novel? Let me count the ways.
First, published in 1719, it's by Daniel Defoe, the father of the English language novel to whom we all owe a debt of gratitude.
Second, it's the best story ever written about playing the cards you're dealt. Crusoe, as we all know, was stranded on a deserted island. What you may not know is that over 28 years he not only prevails, but creates a one-man utopian world through tenacious hard work and faith in himself and his God. This narrative taught me the importance of addressing obstacles with…
Alastair Bonnett
The reason why this book has been in print, pretty much since it first appeared in 1719, lies in its almost tedious detail. Defoe's description of the daily chores, the sheer effort, of survival is believable and, hence, compelling. It's also a story of religion, slavery, and, to modern eyes, blatant racism. Crusoe was captured and enslaved in North Africa, he escapes and eventually becomes a slave trader, and goes on to treat 'Friday' as his slave. These chilling facts are treated in the same matter-of-fact way that Defoe applies to collecting drinking water.