Rework
By Jason Fried, David Heinemeier Hansson,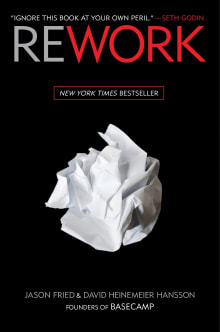 Book description
A radical new business book from business trailblazers Jason Fried and David Heinemeier Hansson that offers a reappraisal of business best practice - advocating stripping everything back to bare essentials. With its straightforward language and easy-is-better approach, Rework is the perfect playbook for anyone who's ever dreamed of doing it…
Why read it?
2 authors picked Rework as one of their favorite books. Why do they recommend it?
Jeffery D. Smith
I love Rework because it's a business book that is straightforward in its language and approach.
It's economical with its page count and once it makes a point it moves on. And there are a ton of great points in this book. 37 signals has always had a unique approach to work and managing their company. While the book has an entrepreneurial mindset in its approach, the lessons are applicable to any leader.
If you're the type of person that isn't happy with the "standard" approach to how things are done, this book is for you.
Derek Lidow
I like Rework because it describes how common sense and entrepreneurship are inextricably linked. No hype, no jargon, the book is a collection of simple descriptions of how to deal with the realities of being an entrepreneur. The book's chapters are two or three pages long and each one is a gem of practical insight from two entrepreneurs who started 37signals and Campfire on their own, step by step. This is very easy reading, yet every page has at least one useful insight that any entrepreneur can immediately put to use.
Our community of 9,000+ authors has personally recommended 100 books like Rework.
5 book lists we think you will like!
Interested in entrepreneurs, success in life, and management?
9,000+ authors have recommended their favorite books and what they love about them. Browse their picks for the best books about entrepreneurs, success in life, and management.