Reinventing Organizations
By Frederic Laloux,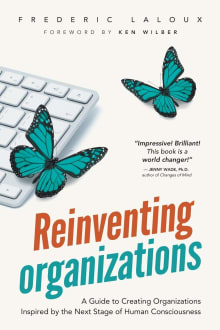 Book description
The way we manage organizations seems increasingly out of date. Survey after survey shows that a majority of employees feel disengaged from their companies. The epidemic of organizational disillusionment goes way beyond Corporate America-teachers, doctors, and nurses are leaving their professions in record numbers because the way we run schools…
Why read it?
2 authors picked Reinventing Organizations as one of their favorite books. Why do they recommend it?
John Montgomery
This is my favorite book about business. I recommend it to my executive coaching clients and have suggested it to scores of people. 
In short, it profiles the heart-based leadership required to create a sustainable economy. A heart-based leader sets the field of consciousness within his or her organization and models the values of its culture. When we work in environments in which we are loved and trusted, we're twice as productive and twice as happy and the organization has half the normal employee turnover. 
The twelve heart-based leaders and their organizations profiled in the book provide examples of the…
Jaideep Prabhu
Frederic Laloux is a Belgian management consultant, coach, and organizational theorist. In this book, he argues that every time humanity has shifted to a new stage of consciousness, it has created a new way to structure and run its organizations. He then argues that a new shift in consciousness and organizational innovation is currently underway. These new organizations are collaborative, decentralized, and adaptive, and operate on trust rather than fear. Packed with examples of such organizations the book shows how their founders are questioning many tenets of 20th-century management to come up with entirely new organizational forms and approaches. Even…