Portnoy's Complaint
By Philip Roth,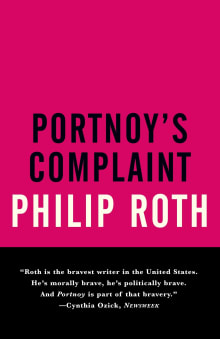 Book description
'The most outrageously funny book about sex written' Guardian

Portnoy's Complaint n. [after Alexander Portnoy (1933-)]:A disorder in which strongly-felt ethical and altruistic impulses are perpetually warring with extreme sexual longings, often of a perverse nature.

Portnoy's Complaint tells the tale of young Jewish lawyer Alexander Portnoy and his scandalous…
Shepherd is reader supported. We may earn an affiliate commission when you buy through links on our website. (learn more)
Why read it?
3 authors picked Portnoy's Complaint as one of their favorite books. Why do they recommend it?
Chuck Augello
Though often viewed as a book about Jewish mothers, Roth's controversial comic masterpiece is also a portrait of an ever-suffering father whose hopes and dreams are tied to his son. "Where he had been imprisoned, I would fly," Roth writes in the voice of his narrator. Portnoy's father is a put-upon insurance salesman wracked with constipation whose sacrifices instill a constant, nagging guilt in his son. Readers empathize with Portnoy's efforts to escape his father's overbearing influence, but also feel for the father, who simply wants the best for his intelligent, talented son. When my own father died, my first…
Robert Rosen
Portnoy's Complaint came out when I was 16. I heard my aunt telling my parents about it. She'd gotten Portnoy from a book-of-the-month club and said it was "disgusting" and wanted to get it out of her house. I didn't understand how a book titled "Port Noise Complaint" could be disgusting. What were people complaining about? Squawking seagulls? Foghorns? She gave the book to my parents, and a few days later I was sitting at my desk, doing homework, when I noticed it on the shelf: Oh, it's "Portnoy's Complaint." I started reading it. When I got to chapter…
Joseph Guzzo
I was 16 years old and house-sitting for my uncle. I was bored and decided to scan his bookshelf. I came across this book and couldn't quite believe what I was reading. Scandalous! And hysterical. And eye-opening. This book showed me that creativity has no limits, and it's a lesson I try to remember every time I confront a blank page.