Microterrors
By Tony Hart,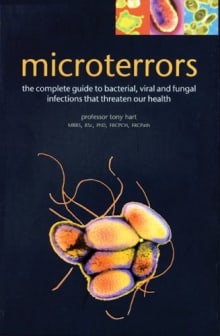 Book description
The hidden dangers surrounding us.
Despite the confident strides of modern science, the threat of deadly unseen organisms such as viruses, bacteria and fungi still grip the imagination with their ferocious intensity.
For instance, resistant strains of bacteria can now survive the strongest antibiotics and deadly new biological weapons are…
Why read it?
1 author picked Microterrors as one of their favorite books. Why do they recommend it?
Jessica Snyder Sachs
If you can get past the sensational (fear-mongering?) title, Tony Harts' slender volume is a delight of colorful micrographs of the bacterial, viral and fungal microbes that cause human infections. His phenomenal microscopy brings the world of "germs" alive – often against the eerie landscape of our own cells and tissues. Not just a picture book, Hart provides succinct, accurate, and lay-accessible information on the spectrum of important, disease-causing microbes and the hazards they pose when they show up in the wrong place at the wrong time.