Learning to Be a Sage
By Chu Hsi, Daniel K. Gardner (translator),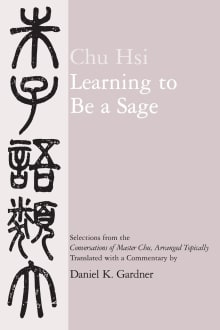 Book description
Students and teachers of Chinese history and philosophy will not want to miss Daniel Gardner's accessible translation of the teachings of Chu Hsi (1130-1200)--a luminary of the Confucian tradition who dominated Chinese intellectual life for centuries. Homing in on a primary concern of our own time, Gardner focuses on Chu…
Why read it?
1 author picked Learning to Be a Sage as one of their favorite books. Why do they recommend it?
Stephen C. Angle
Zhu Xi (also written Chu Hsi; 1130-1200 C.E.) was among the very greatest Confucians both as theorist and as teacher. I love how contemporary his concerns seem; when he worries about students who are "just hurrying through the texts, reading for their literal meaning and taking little pleasure in them," he might as well be talking about most of us today. In Gardner's fluid translation, Zhu's millennium-old ideas about how and why to learn—ultimately aimed at becoming a "sage"—turn out to be remarkably relevant.