Julie of the Wolves
By Jean Craighead George, John Schoenherr (illustrator),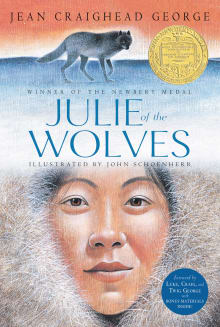 Book description
The thrilling Newbery Medal–winning classic about a girl lost on the Alaskan tundra and how she survives with the help of a wolf pack.
Julie of the Wolves is a staple in the canon of children's literature and the first in the Julie trilogy. The survival theme makes it a…
Why read it?
2 authors picked Julie of the Wolves as one of their favorite books. Why do they recommend it?
Susan English
As a young girl, most afternoons you could find me up a tree, book in hand. My favorite stories all had a common theme: animals. I felt a stronger connection to the animal world than to my own species. When I first read Julie of the Wolves at the age of 8, I was far too young to understand all the social implications of being a barely pubescent orphaned girl forced into a child marriage, but I resonated with the overwhelming desire to escape the confusion and pressures of human relationships. How I longed to be Julie, living among the…
Joni Sensel
An oldie but a goodie, Julie of the Wolves feeds my love of dogs as well as wilder animals. This Newbery Medal winner is another exciting and involving story about an adventurous girl that also offers a peek into another culture that sits side-by-side with our modern world. And yet, since I live in the mountainous forests of the Pacific Northwest, I felt like Julie's world wasn't so far from my own—only colder and with even more snow. Finally, the fact that this book has occasionally been banned is a reason by itself to read it, because young readers want…