Invisible Cities
By Italo Calvino,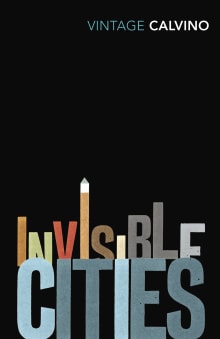 Book description
'A subtle and beautiful meditation' Sunday Times

In Invisible Cities Marco Polo conjures up cities of magical times for his host, the Chinese ruler Kublai Khan, but gradually it becomes clear that he is actually describing one city: Venice. As Gore Vidal wrote 'Of all tasks, describing the contents of…
Shepherd is reader supported. We may earn an affiliate commission when you buy through links on our website. (learn more)
Why read it?
3 authors picked Invisible Cities as one of their favorite books. Why do they recommend it?
David Oppegaard
Invisible Cities is a surreal fantasy classic that blurs reality by describing it with poetic specificity. Marco Polo and Genghis Khan hold a number of conversations in the Khan's beautiful garden and Polo regales the great conqueror with descriptions of the various cities Polo has visited. Are any of these cities real? Does it matter? Each one is weird and cool and seems to allude to dreamy truths about existence. Every time I teach a fiction workshop, this is on the syllabus. Each city is a mini-exercise in world building.    
Robert V.S. Redick
Invisible Cities, all by itself, blew the walls off my notions of what a novel could be. Picture it: Kublai Khan and Marco Polo, likely stoned, certainly world-weary, kicked back on cushions in the Great Khan's palace. That's it. They talk. And yet the book overflows with movement and discovery. Polo speaks of the cities he's visited; Khan describes those he dreams his empire might contain. As the night progresses, the cities pass from odd to eerie to utterly fantastical: cities built like spiderwebs over canyons, cities enslaved by the very accuracy of their astrologers, cities whose people all…
Greg Woolf
Invisible Cities was first published in Italian in 1972 and is a classic work of fiction. The setting is a set of conversations between the Venetian merchant Marco Polo and the Mongol Emperor of China, Kublai Khan. Polo describe strange and wonderful cities he has visited on his travels (or has he? Because so many of the cities are bizarre, unreal and compelling). Each short description is like a poem, and together they raise questions of memory and perspective, of the power of our preconceptions to shape what we see, and the power of words to capture the essence of…