How Paris Became Paris
By Joan DeJean,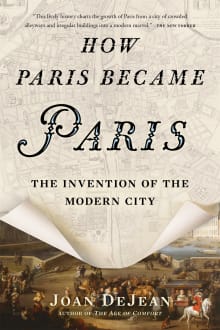 Book description
At the beginning of the seventeenth century, Paris was known for isolated monuments but had not yet put its brand on urban space. Like other European cities, it was still emerging from its medieval past. But in a mere century Paris would be transformed into the modern and mythic city…
Why read it?
3 authors picked How Paris Became Paris as one of their favorite books. Why do they recommend it?
Esther M. Sternberg
I've always loved Paris – perhaps in part because of the romantic attachment that my parents had for the city. They met and married there after World War II. I had visited Paris many times, first with my parents as a teenager and later to speak at France's universities. So, it was natural to be intrigued by a book about how Paris became Paris. 
It is a fascinating story of a transition from a medieval city to one that intentionally included green spaces and broad walkways connecting them – urban design that is now recognized as so healthful and necessary…
Michelle Facos
Not a repeat reader by nature, this book I have read three times, and keep a digital copy handy because I find myself consulting it when I'm in Paris. As a historian of 19th-century art, I knew modern Paris was the co-creation of Napoleon III and Baron Haussmann; its many boulevards, department stores, parks, train stations, and now ubiquitous 7-story, white buildings with wrought-iron window grates emerged during the second half of the 19th-century. Professor DeJean persuaded me otherwise: that Henry IV made the first modern improvements: planned neighborhoods, tax incentives to encourage enterprise, streetlights, and…
Andrew S. Curran
As is the case in many great European cities, most neighborhoods in Paris have accumulated layers and layers of famous inhabitants, momentous events, and deathbed scenes, the most notable of which have earned a historical marker or plaque. At first glance, the city's buildings and neighborhoods appear timeless, yet much of Paris is actually a palimpsest, a huge manuscript whose neighborhoods have been scraped to the ground and rebuilt time and time again. One of my favorite things in life (quite literally) is walking through the streets of the French capital, and I often find myself thinking of How Paris…