Guadalcanal Diary
By Richard Tregaskis,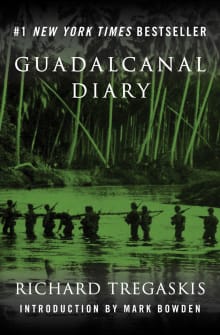 Book description
This celebrated classic gives a soldier's-eye-view of the Guadalcanal battles--crucial to World War II, the war that continues to fascinate us all, and to military history in general. Unlike some of those on Guadalcanal in the fall of 1942, Richard Tregaskis volunteered to be there. An on-location news correspondent (at…
Why read it?
2 authors picked Guadalcanal Diary as one of their favorite books. Why do they recommend it?
Johnnie M. Clark
Written by a war correspondent who landed on Guadalcanal with the Marines, this book is another must-read for history buffs and every Marine. It is an accurate story of this critical and now legendary battle. 

Daniel Hammel
Tregaskis, not a soldier, but a journalist on assignment, takes us into the world of the man on the ground, in and out of combat. The story of the first real blow against the Japanese Empire following the string of defeats prior. The diary reads just like you would expect - the day-by-day account of the monotony of ship life as the Marines sail closer to unknown shores, followed by tales of bravery and air raids while engaged in combat with the enemy. Tregaskis is an observer, but he takes us there, where few dare go.