France Under the Germans
By Philippe Burrin, Janet Lloyd (translator),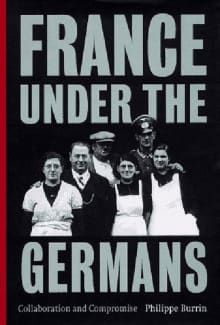 Book description
From 1940 to 1944, the French people adapted in a variety of ways to life under the domination of Nazi Germany. France under the Germans is the definitive study of the choices made by ordinary French citizens during that turbulent historical period, exposing for the first time the degree of…
Why read it?
1 author picked France Under the Germans as one of their favorite books. Why do they recommend it?
Bertram M. Gordon
Whereas historians and others in postwar France focused on French resistance to Nazi Germany during their Second World War occupation (1940-1944) relatively few in wartime France did in fact actively resist the Germans. Instead, while some in France either collaborated with the Germans after France's defeat in 1940, many and arguably the majority chose a more passive accommodation to German supremacy. Especially in the early years of the occupation, French civilians often found the German soldiers more polite and seemingly respectful of the country they had just conquered than had been France's British allies. Many in France, artists, intellectuals, business,…