Fania's Heart
By Anne Renaud, Richard Rudnicki (illustrator),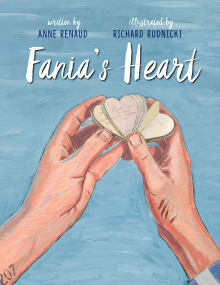 Book description
Ten-year-old Sorale discovers a tiny heart-shaped book among her mother's belongings. Its pages are shaped like four-petaled flowers, upon which are written words in languages Sorale does not understand. Who wrote these words? Where did the heart come from? And why has her mother never mentioned this tiny book before?…
Why read it?
1 author picked Fania's Heart as one of their favorite books. Why do they recommend it?
Nhung N. Tran-Davies
For many who have lived through war and conflict, traumatic memories are often kept buried to bury the painful memories. In Fania's Heart, there are secrets of the tattooed number on Sorale's mother's arm. And there are secrets of why her mother had no sisters, brothers, cousins, aunts, uncles, or grandparents. This book tells the true story of the crafting of a wonderful gift, created against all odds, within the confines of a prison camp. Curiosity about this secretive gift will spark conversations that are difficult, but necessary to remind younger generations of the courage it takes to survive…