Cold Peace: A Novel of the Berlin Airlift, Part I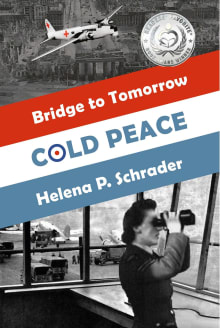 New book alert!
Sponsored by Helena P. Schrader

Author
Who am I?
I first went to Berlin after college, determined to write a novel about the German Resistance; I stayed a quarter of a century. Initially, the Berlin Airlift, something remembered with pride and affection, helped create common ground between me as an American and the Berliners. Later, I was commissioned to write a book about the Airlift and studied the topic in depth. My research included interviews with many participants including Gail Halvorsen. These encounters with eyewitnesses inspired me to write my current three-part fiction project, Bridge to Tomorrow. With Russian aggression again threatening Europe, the story of the airlift that defeated Soviet state terrorism has never been more topical. 
What is my book about?
Berlin 1948. The economy is broken, the currency worthless, and the Russian bear is preparing to swallow its next victim. In the ruins of Hitler's capital, former RAF officers and a woman pilot start an air ambulance company which offers a glimmer of hope. Yet when a Soviet fighter brings down a British airliner, Berlin becomes a flashpoint. The world teeters on the brink of World War Three.
Award-winning novelist Helena P. Schrader tells the backstory of the Berlin Airlift in Cold Peace, the first book of the Bridge to Tomorrow series.

Cold Peace: A Novel of the Berlin Airlift, Part I
By Helena P. Schrader,
---