Decision in the West
By Albert Castel,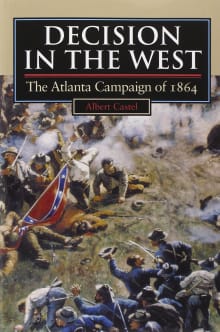 Book description
Following a skirmish on June 28, 1864, a truce is called so the North can remove their dead and wounded. For two hours, Yankees and Rebels mingle, with some of the latter even assisting the former in their grisly work. Newspapers are exchanged. Northern coffee is swapped for Southern tobacco.…
Why read it?
2 authors picked Decision in the West as one of their favorite books. Why do they recommend it?
David Powell
The campaign to capture Atlanta, waged over the summer of 1864, was one of the most decisive events of the entire American Civil War. Historians have argued that Atlanta's fall, achieved that September, demonstrated to a war-weary North that the Lincoln Administration's war policies were successful, and that victory was in sight. However, prior to 1992, there was very little coverage of any aspect of the campaign, let alone a narrative history of the full campaign.
Thirty years later, Decision in the West remains the standard work on the Atlanta Campaign. Though Castel's coverage of individual battles (Resaca, Pickett's Mill,…
Wendy Hamand Venet
A lengthy study of the military campaign that led to Atlanta's downfall, this book includes military strategies of the two armies, details about the many skirmishes and battles, and forceful conclusions about this decisive campaign. Castel posits that the Confederate commander, General Joseph E. Johnston, "had the best, perhaps the sole, chance of saving Atlanta," while also believing that Johnston's replacement, General John Bell Hood, "inherited . . . a virtually impossible situation." Regardless of military leadership, the Federal army's superior number of soldiers and their greater material assets proved decisive.