Bumblebee Economics
By Bernd Heinrich,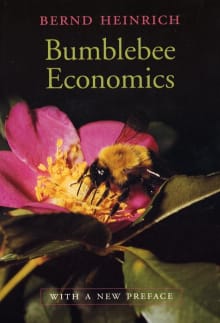 Book description
Here is a brilliant introduction to insect and plant ecology focusing on one of nature's most adaptive creatures, the bumblebee. Survival for the bumblebee depends on its ability to regulate body temperature through a complex energy exchange, and it is this management of energy resources around which Bernd Heinrich enters…
Shepherd is reader supported. We may earn an affiliate commission when you buy through links on our website. (learn more)
Why read it?
2 authors picked Bumblebee Economics as one of their favorite books. Why do they recommend it?
John M. Marzluff
I first read this book as a graduate student and it gave me a new appreciation for insects. Heinrich wowed me by describing his discovery of a hot-blooded insect. Bumblebees can increase their body temperatures by shivering and in this way live in our coldest climates. They heat up to fly in search of nectar which they bring back to their nest of developing bees. They even hibernate and survive the winter in cold regions such as Heinrich's backyard study area in Maine. This book so influenced me that I eventually studied with Heinrich, spending three years in his Maine…
Thor Hanson
This book offers a wonderful combination of scientific discovery and homespun natural history. Heinrich later gained fame studying ravens, but he cut his scientific teeth as an entomologist, unraveling the mysteries of how bumblebees budget their energy – as individuals, and as a community. The ideas captured here, and the excitement with which he conveys them, have become models for the study of insect lives.