Blood on the Snow
By Graydon A. Tunstall,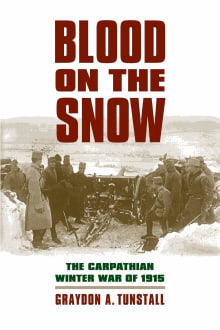 Book description
The Carpathian campaign of 1915, described by some as the ""Stalingrad of the First World War,"" engaged the million-man armies of Austria-Hungary and Russia in fierce winter combat that drove them to the brink of annihilation. Habsburg forces fought to rescue 130,000 Austro-Hungarian soldiers trapped by Russian troops in Fortress…
Why read it?
1 author picked Blood on the Snow as one of their favorite books. Why do they recommend it?
Holger H. Herwig
The book is a stunning tale of death and disaster. In February 1915 one Austro-Hungarian army and one German army tried to relieve the Russian-besieged Habsburg fortress of Przemyśl and its 120,000-man garrison. The Austro-Hungarian troops advanced along the 1,200-meter high ridges of the Carpathian Mountains in snowstorms and dense fog. Intermittent sleet, snow, wind, and ice battered the men. Temperatures plummeted to -25 degrees Celsius. Sudden thaws turned the battlefields into seas of mud. Men either froze to death or drowned in the ooze. Hunger, starvation, disease (typhus and cholera), frostbite, and wolves took their toll. Horses and dogs…