Biocentrism
By Robert Lanza, Bob Berman,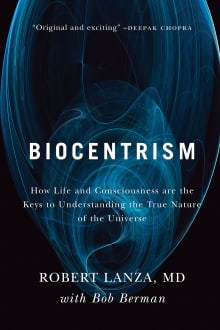 Book description
Robert Lanza is one of the most respected scientists in the world--a US News & World Report cover story called him a "genius" and a "renegade thinker," even likening him to Einstein. Lanza has teamed with Bob Berman, the most widely read astronomer in the world, to produce Biocentrism, a…
Why read it?
3 authors picked Biocentrism as one of their favorite books. Why do they recommend it?
Rea Nolan Martin
Okay, you got me. This is not a book of fiction, although cynics may disagree. It's a book of quantum possibility based on hard science and evolved visionary theory.
Like all of my stories, Biocentrism places consciousness at the center of its premise, presenting an important new human/world/cosmic view of well, everything. Like its author, Robert Lanza, I believe that consciousness is the essential fabric of mind, soul, and matter. Everything arises from it. Nothing is conceived without it.
The characters in my stories are always guided toward the higher aspects of their awareness in order to create new realities.…
Vic Manzo Jr.
This book truly helped me grasp another viewpoint on how the Universe works, how life works and how we are all interconnected. The concepts of biocentrism are built from quantum physics and the information shared within this book, it truly helped me grasp a bigger picture of how we, life, are creating and helping expand the Universe and so much more.
Richard Botelho
This book is representative of the type of books inspiring the next paradigm shift in human understanding. The foundations of knowledge are being transformed by the recognition of the primacy of the Mind. Physicalism is being replaced by the supremacy of Consciousness and Spirit, where life creates the universe and is not a by-product of physical processes. 
Our community of 9,000+ authors has personally recommended 100 books like Biocentrism.
5 book lists we think you will like!
Interested in the meaning of life, cosmology, and physics?
9,000+ authors have recommended their favorite books and what they love about them. Browse their picks for the best books about the meaning of life, cosmology, and physics.
Physics
Explore 115 books about physics