Abuse of Power
By Stanley I. Kutler,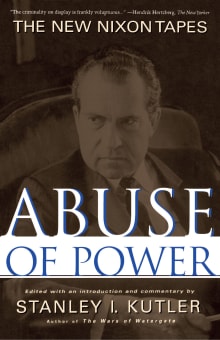 Book description
No President has taped Oval conversations so thoroughly or found himself in as much trouble as Richard Nixon. He and his heirs fought for years to keep hours of these sensitive recordings from ever being released. Now Stanley I. Kutler, an emminent historian and one of the principle parties to…
Why read it?
1 author picked Abuse of Power as one of their favorite books. Why do they recommend it?
Michael Dobbs
Had Nixon not taped himself in secret, it is doubtful that he would have been forced to resign as president of the United States. While some of the most incriminating tapes were released as a result of a Supreme Court order, the remainder became the subject of a long legal tussle that continued for several decades. Nobody did more to secure the full release of the tapes than the historian Stanley Kutler who published highlights in his 1997 book, Abuse of Power. The tapes provide a unique insight into the functioning of the modern-day presidency, and Nixon's own personality,…