A (Very) Short History of Life on Earth
By Henry Gee,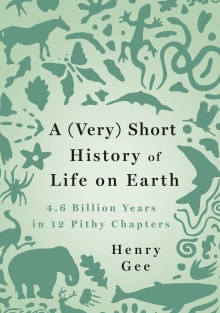 Book description
The Royal Society's Science Book of the Year

"[A]n exuberant romp through evolution, like a modern-day Willy Wonka of genetic space. Gee's grand tour enthusiastically details the narrative underlying life's erratic and often whimsical exploration of biological form and function." —Adrian Woolfson,The Washington Post

In the tradition of Richard Dawkins,…
Why read it?
3 authors picked A (Very) Short History of Life on Earth as one of their favorite books. Why do they recommend it?
Larry L. Rasmussen
My own work, even in retirement, entails teaching and writing on changes in planetary systems that impact us dramatically (e.g., climate change). To engage students it is most helpful to have a highly engaging account of Earth's own dramatic history over its 4.6. billion years. This book provides that in non-technical, jargon-free language that anyone of high school and college age, as well as older, easily understands.

Brian Clegg
You can't get much deeper in human terms than where life on Earth came from and how it developed. Despite the huge sweep of 4.6 billion years from the earliest life to its chances for the future (humans included), Henry Gee manages to make this story engaging. Biology and paleontology books can get bogged down in detail that just isn't of interest, but here we are swept along by enjoyable writing. Who can resist a description of an ancient creature that reads, "Had it had wheels, it would have been an armored personnel carrier. With teeth."
Orsola de Castro
It does what it says on the cover, takes you back to where it all started, and puts where we are now in perspective. It put me in touch with my own ancestry, and the ancestry of time immemorial, giving sense to all journeys we have undertaken as inhabitants of planet earth. This book centered me, reminded me of the smallness and hugeness of human life on Earth, and inspired the best sleep routine I have ever attempted: when insomniac, or worried, at night, I imagine myself safe in a cave – and drift back to sleep almost immediately.