A Culture of Growth
By Joel Mokyr,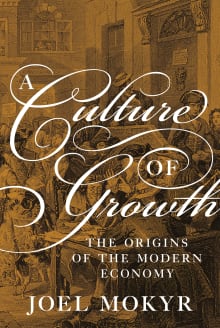 Book description
Why Enlightenment culture sparked the Industrial Revolution

During the late eighteenth century, innovations in Europe triggered the Industrial Revolution and the sustained economic progress that spread across the globe. While much has been made of the details of the Industrial Revolution, what remains a mystery is why it took place…
Why read it?
1 author picked A Culture of Growth as one of their favorite books. Why do they recommend it?
Alex Mesoudi
I've included this book to illustrate how the perspective of cultural evolution is spreading to disciplines and problems far beyond its origins in biology and anthropology. In this case the discipline is economic history and the problem is explaining why the Enlightenment, which paved the way for the rapid technological and economic transformations brought about by the subsequent Industrial Revolution, occurred when it did (1500-1700) and where it did (Western Europe). Mokyr's answer draws on cultural evolutionary concepts to argue that a culturally transmitted mindset of innovation and progress, as well as the intense competition of ideas within a politically…